PRP Injections for Knee Pain
PRP Injections for Knee Pain
Written By Hancock Healthcare Group on March 9, 2021
---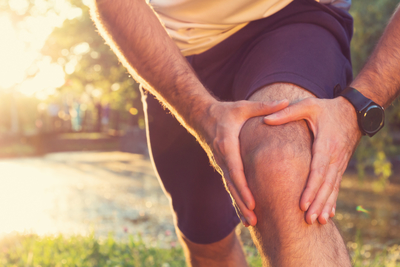 If you suffer from knee pain, you are not alone. The prevalence of the condition has increased significantly in the United States over the past 20 years, resulting in the surge of knee replacement operations.
Platelet-rich plasma, PRP, injections may offer a non-surgical solution to ease your discomfort.
How PRP Injections Treat Knee Pain
Platelet-rich plasma is found in the blood and plays a vital role in injury healing. Platelets are what allow your blood to clot when you cut yourself. They are also rich in growth factors, which encourage reparative cells to multiply and heal damaged tissues.
To understand how PRP therapy can treat knee pain, it's essential to understand what causes knee pain. The prevalent cause is osteoarthritis, a condition characterized by worn-down cartilage in the knee joint. This can happen due to traumatic injury or aging. Without sufficient cartilage as a cushion, the bones in the joint rub together, causing pain.
When PRP is injected into the knee, the platelets promote cell growth and encourage tissue repair. This can reduce friction and its associated pain.
Why You Might Consider PRP Injections
As a treatment for knee pain, PRP injections offer multiple benefits.
For one, this approach is non-invasive. The injections are administered via a slim needle. No painful knee surgery is needed.
This also eliminates the lengthy recovery time associated with knee surgery. Patients need three to six weeks until they can resume their regular everyday activities after a full knee replacement. They also have to complete months of physical therapy.
Finally, PRP injections are all-natural and reduce knee pain without pharmaceuticals. Doctors and patients alike have become increasingly wary of painkillers, which can result in addiction issues if taken long term. Individuals with chronic pain issues are especially susceptible to opioid addiction.
State-of-the-Art PRP Injections in Cape Coral, Florida
Don't let knee pain hold you back in life. Talk to the medical professionals at Hancock Healthcare Group about PRP injections. We prioritize conservative, non-surgical approaches that are in the patient's best interests and pride ourselves on our cutting-edge regenerative medicine care.
Call us at (239) 574-5559 to schedule your consultation.

Posted In: Chiropractic PRP Injections Knee Pain Treatment